Job Seekers
Click here to learn about Illinois unemployment benefits
Interview Help and Resume Assistance


Fine-tune your resume and sharpen your interviewing style. Email us at reference@sfvpld.org for help.



Job Search Websites
Glassdoor | Indeed | Monster | Recruit.net | USA Jobs | Illinois Job Link | Work 4 Illinois | ZipRecruiter
Career Exploration
CareerOnestop | Learn How to Become | My Next Move | O'NET | University HQ - How to Become Guide
Employment Guides
Job Hunter's Bible | JobStar Central | U.S. Bureau of Labor Statistics | E&ES
---
English Learners
Learn English with our free online courses from Mango. This online service is accessed with your Stickney-Forest View Library card number. Universal Class is another service to learn at your own pace and is also accessed with your card number. Classes are under the 'Language Arts' section and are taught by real teachers who assign and grade homework.
ESL Classes | Transparent Language Online | Universal Class
English without Barriers: Available through CDs, DVDs, and workbooks. Can be checked out for three weeks. Items are located in the Spanish Books section in the Library. Click here to reserve these materials.
---
Future American Citizens

Are you interested in becoming an American citizen? Here we can give you the tools to start your path to citizenship.
Civics and Citizenship Kit: Guide to the requirements for filing citizenship application; citizenship testing tools in English and Spanish; three-week checkout period. Available in the Spanish Books section. Click here to reserve these materials.
Printer, Copier, Scanner, Fax, and Computers: Can be used to fill and print your application.
United States Citizenship and Immigration Web Services: The official website of the US Government containing tools and guides for the application process.
The following databases have resources available to assist you with your citizenship preparation.
Universal Class HelpNow
---
Seniors (55 and older)

Programs for Seniors
Chair Yoga
Wits Workout
Crossword Club
Mather Telephone Topics
Virtual Mature Adult Center (V-MAC): An online platform that promotes ongoing learning, social engagement, and civic involvement.
Home Delivery (Entrega a Domicilio)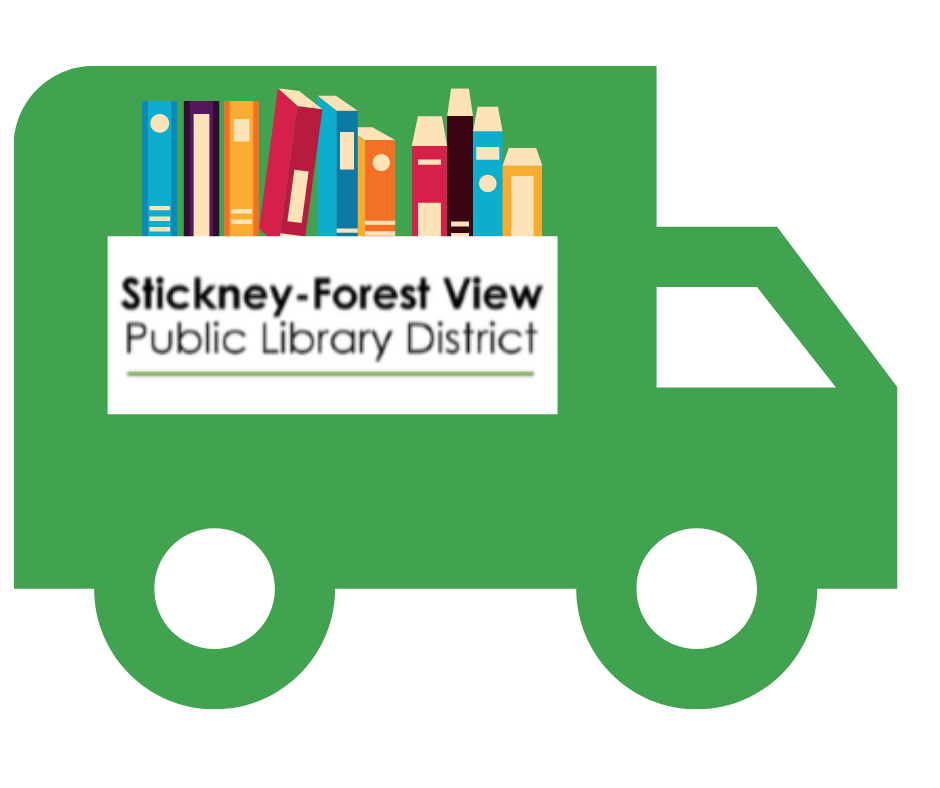 If you, or someone you know, is unable to come to the library due to a disability or circumstance that prevents mobility, the Library will deliver materials right to your door. Stickney, Forest View, and Central Stickney residents who are permanently or temporarily homebound and unable to visit the Library due to a handicap or medical circumstance. Patrons can call the library and schedule a time for delivery/pick up, not to exceed more than one delivery/pick up per week. Materials in all formats can be checked out. Patrons who want to have Home Delivery service must have an SFVPLD library card in good standing and will have to complete a simple application. Click this link for the online application. To download a print version click here: application.

Questions? Please call 708-749-1050 x120, email reference@sfvpld.org, or come to the Popular Services Desk.

*Si tú, o familiar, o amigo está recluido por razones médicas, la Biblioteca pueda proveerte libros y materiales directamente a tu hogar.
---
Business Resources
Small Business Development Centers
Illinois Department of Commerce and Economic Opportunity has programs and resources to help your business succeed. Find Small Business Development Centers in your area here. First stop business information center here.
Starting Your Own Business
SCORE Chicago volunteers are experienced entrepreneurs, corporate managers, and executives with a diverse set of industries and specialties who volunteer their experience and knowledge to help small business professionals start, develop, and grow businesses. We also offer low-cost or no-cost business training, and numerous templates and tools.
Online Resources for Your Business
Business Source Premier | Consumer Reports | Linkedin Learning | Legal Information Reference Center
Notary Public Services-Coming Soon
We are in the process of renewing our notary publics. The service will be back soon. Sorry for the inconvenience.
There is no charge for our Notary service. Please call (708) 749-1050 to be sure there is a Notary on duty before you come in. If your document will need a witness, you must bring someone with you to act as witness. View the Library's Notary Policy for more details.
---
Exam Proctoring
One of the goals of the Stickney‐Forest View Public Library is to create an environment that supports life‐long learning. One service we offer to support this goal is to provide proctoring of tests and examinations for students taking online, continuing education, or distance education courses. Stickney‐Forest View residents with a valid Stickney‐Forest View Public Library card can request a proctoring appointment free of charge, other than normal charges for printing and/or copying. Residents from outside the Stickney‐Forest View Public Library service area can request a proctoring appointment for a nominal fee in addition to normal charges for printing and/or copying.
View the Exam Proctoring Policy for more information and submit a Proctoring Agreement Form if interested.
---